EUAM launches the photo competition "Faces of Change"
April 15, 2019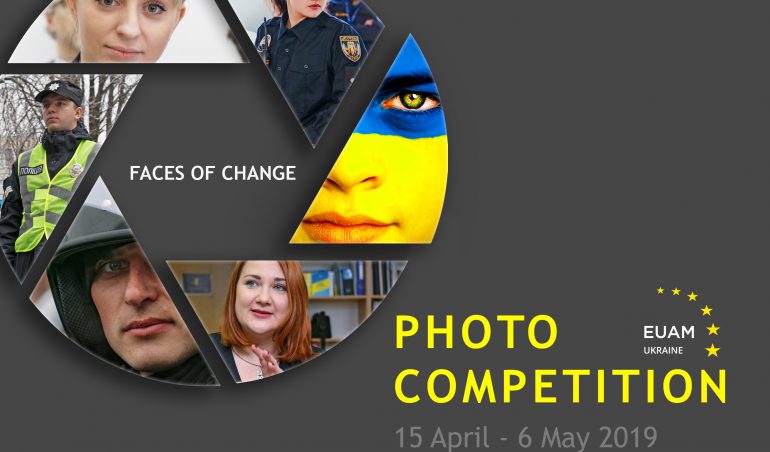 Do you have a colleague, family member or friend who goes above and beyond the call of duty in a civilian security institution? Do they do small, and often unnoticed things that nonetheless are important for the future of the country?
Then the European Union Advisory Mission's (EUAM) photo competition 'Faces of Change' is for you.
EUAM provides advice, training and equipment for law enforcement and rule of law institutions in Ukraine. These institutions include the Ministry of Internal affairs, National Police of Ukraine, General Prosecution Office, State Border Guard Service of Ukraine, State Fiscal Service (State Tax Service and State Customs Service), Security Service of Ukraine, State Bureau of Investigations and the Council of Judges. In recognition of the service of the staff of the institutions we work with and to celebrate Europe Day 2019, we are inviting the staff of our partner institutions, or anybody member of the public interested in the reform of those institutions, to send us portraits that represent 'Faces of Change'.
Each portrait entered in the competition should feature a person who has contributed to reform of the civilian security sector in Ukraine, even in the smallest way. The portrait should be accompanied by a short narrative about the person being portrayed and what he/she has done to contribute to the reform process in their institution.
 Terms and conditions:
The competition will run from 12 April – 6 May 2019.
The competition is open to anyone over 18 years of age, apart from staff members at EUAM or their close relatives (parents, grandparents, children, grandchildren, siblings, spouses), who are excluded in order to avoid accusations of bias. Individuals may submit as many entries as they like.
The applicant must be the copyright holder or have obtained the authorization of the copyright holder(s) to submit the photos.
Please submit the entries by email to photo@euam-ukraine.eu
Entries must be accompanied by the entrant's name, the location of the photograph, and a short description (maximum 60 words) of what the person has done to help with reform in Ukraine. Images must be at least 300 dpi, 3,840 x 2,160 pxl.
The photo size should not exceed a limit of 25MB.
Entrants should include their own name, email address and telephone number.
We regret that we are unable to accept postal entries.
EUAM retains the right to use these pictures in its social and printed media.
Prizes: Up to 20 portraits will be exhibited as part of a public display at EUAM's Open Day that will take place in Kyiv on 18 May 2019.
The jury, which will consist of EUAM staff and professional photographers, will select three best photos. The authors of those photos will be awarded:
3rd prize – EUAM thermal mug
2nd prize – photo album (photo book)
1st prize – Go Pro Hero 7 Silver