EUAM launches first series of training for investigators of the State Bureau of Investigations
March 14, 2019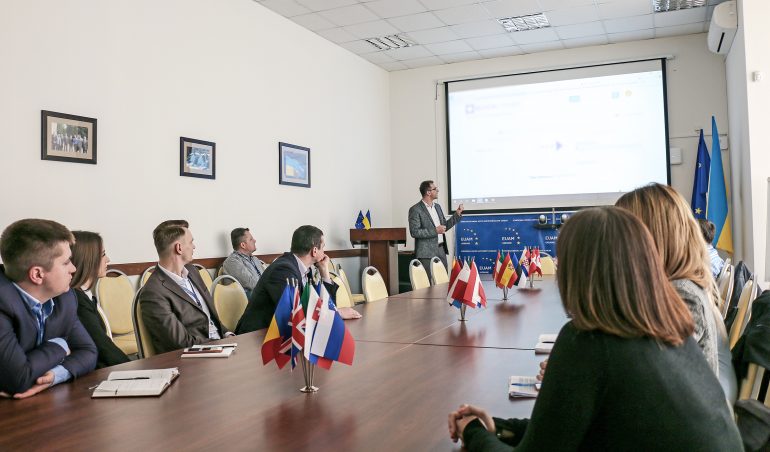 The European Union Advisory Mission (EUAM) this week delivered four advisory sessions for the State Bureau of Investigations (SBI). A first for EUAM-SBI cooperation, the mission's experts shared with investigators and representatives of the SBI's International Cooperation Department best European practices on serious crime investigations. 
"EUAM is here to support our partners in capacity building as it is crucial for the newly established State Bureau of Investigation to be fully operational and to have professional well-trained staff. This advisory course was particularly developed for the SBI and based upon their requests," said Lynn Sheehan, EUAM Deputy Head of Operations. "It is the first training session that we have provided for the SBI's investigators. We hope that this programme will assist the performance of the SBI in serious crime investigations and help them to establish professional international cooperation in particular."
The mechanisms of information exchange within criminal proceedings through Interpol and Europol were central to the international police cooperation session. The participants were interested, in particular, in procedures of submitting information requests via the platforms of these international agencies.
A session on cyber aspects of criminal investigations was dedicated to online payment systems that can be used by criminals for corruption purposes. The discussion also covered methods of work with electronic evidence in criminal investigations. SBI representatives  raised a number of questions, such as the possibility to record the use of cyber currencies for corruption purposes and arrest of crypto-assets.
Speaking about the international experience of investigating corruption, EUAM experts detailed the methods for detecting such offences and collecting evidence for public prosecution in court. Particular attention was paid to the issue of the difference between imitations of crime and bribe provocation, taking into account the judicial practice of the European Court for Human Rights. EUAM experts also shared best European practices on witness protection, its institutional mechanisms and risk management programme.