EUAM judicial cooperation initiative continues with return visit of senior Irish judges to Ukraine
September 05, 2018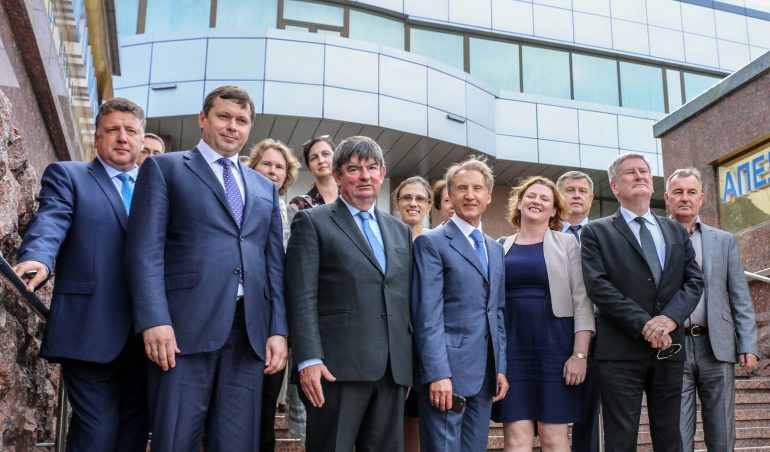 This week, a delegation of senior judges from Ireland are visiting Kyiv and Lviv in order to deliver training to sitting Ukrainian judges, and to candidates for judicial posts who are currently being trained at the National School of Judges of Ukraine. The Irish delegation is comprised of the President of the Court of Appeal of Ireland, Mr Justice Birmingham, a judge of the Supreme Court of Ireland, Mr Justice MacMenamin, and barrister Helen Boyle.
The initiative builds on similar training that was delivered by members of the Irish judiciary at the National School of Judges of Ukraine in September 2017, and a study visit by senior judges from Ukraine to Ireland in April 2018 (that was carried out in cooperation with the Ministry of Foreign Affairs and Trade of Ireland), thereby continuing a partnership of cooperation and experience sharing that has developed between the judiciaries of the two countries.
Ireland's Ambassador to Ukraine Charles Sheehan, who will accompany the delegation to Lviv, said this week that Ireland strongly supports the work of the EUAM in assisting Ukraine's reforms in the area of the rule of law.  "I believe that, despite the differences in scale and in legal traditions between our two countries, the relationship which has developed between the two judiciaries at a senior level has much to offer in Ukraine's judicial reforms, particularly in light of Ireland's long history of judicial independence and our courts' deep experience of European Union law."
The Ukrainian judges will discuss a range of issues with their Irish colleagues this week and explore the manner in which Ireland has, over time, established an independent judiciary which enjoys the trust of the public. The topics addressed will include the judicial system in Ireland, selection, appointment and career growth of judges, public trust in the judiciary, and independence.
On his second visit to Ukraine, Mr Justice Birmingham said:
"Sharing experiences with our Ukrainian colleagues is a very productive exercise and I think we both learn to appreciate the differences in our systems through this exchange of views. Speaking with the candidates for judicial office was a real privilege for me because, as a long-serving judge, I understand the challenges they will face in future.  I wish them every success as they start their journey and hope that they will serve the public in an ethical and professional manner – this is our task as judges."