EUAM helps first-graders stay safe and visible on the road from their first school day
September 01, 2017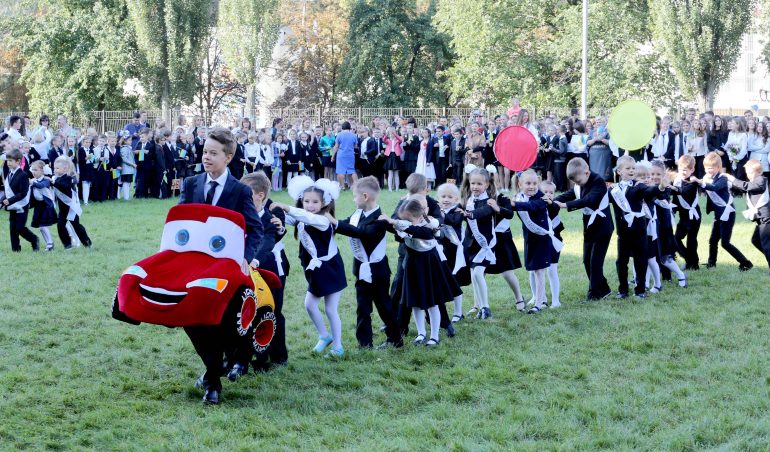 The EU Advisory Mission Ukraine (EUAM) joined kids on their first ever day at school – 1 September – to help make sure that as they grow older they stay safe and aware on the road. EUAM also used the opportunity to announce the kick-off of an extensive joint project with the Ministry of the Interior of Ukraine and the National Police of Ukraine, which will support road safety lessons for more than 20,000 primary school children.
This project will reach more than 200 schools in seven regions of Ukraine (Kyiv, Ivano-Frankivsk, Lviv, Ternopil, Cherkasy, Kharkiv, Chernivtsi). Beside traffic safety lessons, police officers will provide books and reflective items for kids, which were produced with the financial support of EUAM. These items will enable children not only to be better informed about potential risks on the road, but also how to stay more visible for drivers.
William Brame, Senior Adviser on Community Policing, also highlighted at the event the importance of implementing the Road Safety Strategy 2020. This document is the result of a joint Working Group involving EUAM and was adopted by the Cabinet of Ministries in June 2017. "This strategy creates a road map for all agencies involved in traffic safety for the next three years and is the foundation stone for better coordination and cooperation between them in this area," he said.  "A document on a table will not however make a difference if it is not accompanied by political will and a firm commitment to improve road safety in Ukraine".
The event at the Kyiv High School no. 177 was attended by the Deputy Minister of Interior, Tetiana Kovalchuk, the Deputy Minister of Education Pavlo Hobzei and the Deputy Chief of the Patrol Police Oleksiy Biloshitsky as well as EUAM representatives involved in the conception and launch of the road safety project.