EUAM Head of Mission calls on Ukrainian parliamentarians to ensure Draft Law on National Security aligns Ukraine with EU and NATO standards
May 24, 2018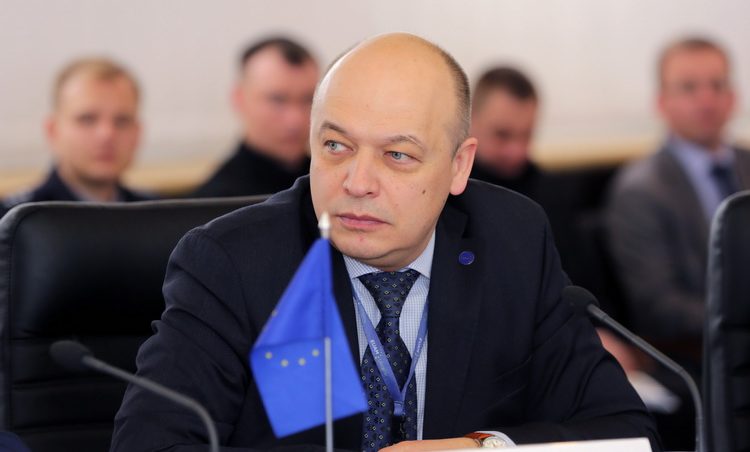 At a seminar in the Ukrainian Parliament yesterday, the Head of the EU Advisory Mission Ukraine (EUAM) Kęstutis Lančinskas called on Ukraine's parliamentarians to use their powers to ensure that the Draft Law on National Security currently being debated aligns Ukraine's security sector with EU and NATO standards.
Speaking alongside international diplomats and current and former representatives of security services in NATO countries, Mr Lančinskas underlined that Ukraine's stated objective of closer integration with the EU and NATO depends on embracing shared values, including democratic and civilian oversight of security and intelligence services, as well as trust that these values will be protected.
The EU diplomat moreover emphasised that the changes suggested by EUAM and international partners were designed to enhance Ukraine's security and would strengthen Ukraine's resilience to external and internal threats now and in future.
"The security and intelligence services are entrusted with unique powers to take intrusive measures designed to protect citizens," said the Head of EUAM. "Given the powers that these institutions enjoy, it is essential that Ukraine establishes mechanisms to ensure that these powers are being used properly and comply with the Constitution. Our view, shared by our international partners, is that this can only be ensured through a separate Parliamentary Committee to oversee security agencies mandated to use intrusive measures. The establishment of such a Committee would require specific legislation and we urge the Ukrainian Parliament to devise a clear timeframe for the development and adoption of such a law".
Speaking specifically about the Security Service of Ukraine, he added, "In order for the Security Service of Ukraine to be effective and also to reduce the potential for corruption, the institution should be transformed into a depoliticised and demilitarised internal security intelligence agency with law enforcement functions limited to counter intelligence, counter terrorism and protection of state secrets as is the case in EU and NATO countries".
EUAM cooperates closely with the EU Delegation to Ukraine, and is part of an International Advisory Group with the NATO Representation to Ukraine and the US Embassy to Ukraine set up to support legislative reforms in Ukraine's security sector. The seminar was the result of joint efforts by this group to share information with Ukrainian counterparts on parliamentary oversight mechanisms in EU and NATO countries. During the event, MPs from different Parliamentary committees and political factions expressed their support for the principle of civilian and democratic oversight of security structures.
The second reading of the Draft Law on National Security is currently underway and the Law is scheduled to be passed before the summer recess. Given its importance to Ukraine and Europe's security, as well as its significance for Ukraine's future international relations, the passage of the law is being followed closely by embassies and international organisations.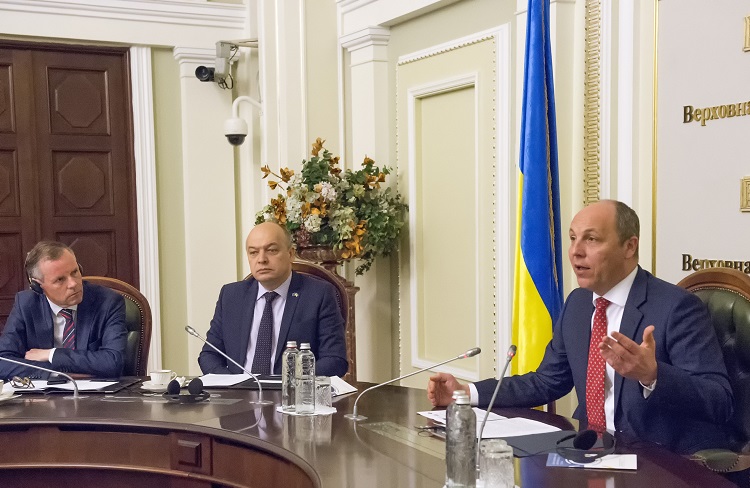 Speaker of the Ukrainian Parliament Andriy Parubiy (Right) with EUAM Head of Mission Kęstutis Lančinskas (Centre) at the seminar on the Draft Law on National Security
Photo by Andriy Nesterenko