EUAM experts, teachers and cadets go online to tackle organised crime
April 15, 2020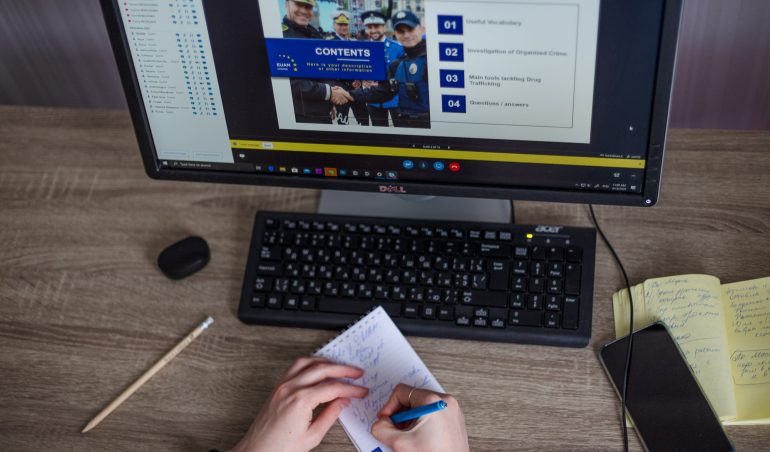 With the COVID-19 lockdown worldwide, unfortunately organised crime is taking no break from its illegal activities – it merely adjusts and evolves. Law-enforcement agencies are therefore facing new challenges on top of existing ones on a daily basis. It is for this reason that the European Union Advisory Mission (EUAM) yesterday brought EU experts together with teachers and cadets of Kharkiv National University of Internal Affairs for a webinar on trafficking of drugs and human beings. 
EUAM's Senior Advisor on Prosecution, Tomas Meskauskas, spoke about EU national strategies on combatting drug trafficking, which include efficient rehabilitation programmes. Besides that, he provided details on the legislative framework for witness protection and recommended amendments to the Criminal Procedure Code, which allow law enforcement a fast and smooth application of covert measures. Mr Meskauskas also explained why drug dealers do not use messenger bots for contactless sale of drugs in his home country, Lithuania. Unlike in Ukraine, where users' identities can be more easily disguised, in Lithuania criminals risk being traced through mobile phones and apps.
EUAM's Advisor on Community Policing, Liviu Velicea, spoke about the investigation of human trafficking, a transnational crime where victims, witnesses and defendants can all be from different countries. By definition this requires effective international cooperation among law-enforcement agencies. Mr Velicea also presented the best international practices in legislation and standards for assistance to victims and prosecuting traffickers.
EUAM has also been supporting its Ukrainian counterparts develop an 'Organised Crime Concept', which covers mechanisms to counteract organised crime in Ukraine, the legislative framework, and cooperation within the criminal justice chain – ultimately this aims to improve capacity to fight organised crime at national and international levels. The webinar format is one of many digital solutions EUAM is using to allow the mission continue its support for Ukraine's Civilian Security Sector institutions during the Covid-19 pandemic.