EUAM donation of €80,000 to improve response capacity of police in Kirovohrad region
June 19, 2019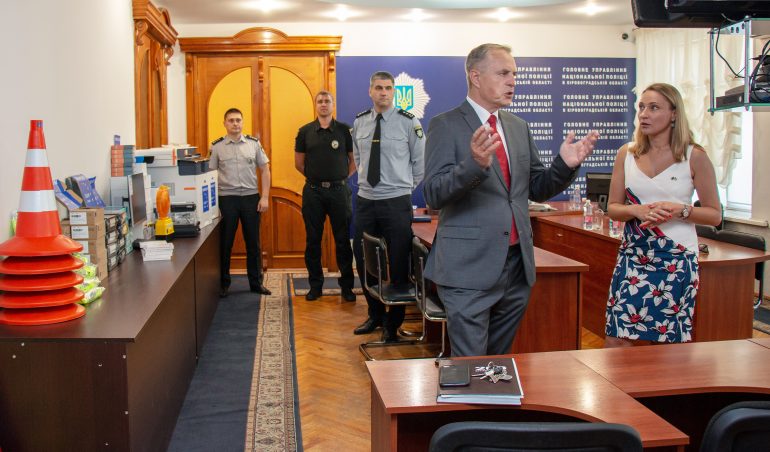 The European Union Advisory Mission (EUAM) Ukraine today handed over equipment worth €80,000 to the National Police of Kirovohrad region in order to enhance response capacities of police in the region. All in all EUAM provided Rapid Response Teams with 22 sets of tablet PCs, breathalysers and portable thermal printers, reflectors, vests,  as well as 23 desktop computers and UPS systems for police stations in the region. These computers will be used for storage of information and processing of videos taken by the Rapid Response Teams.
Kirovohrad's counter-narcotics departments also received sets of drug testers, while the Regional Training Centre was provided with tactical equipment (protective outfits, tactical belts, noise reduction equipment, etc) in order to ensure a high quality of training delivery.In order to boots pre-trial investigative capacities, police also received various IT equipment.
"It is hard to work without necessary equipment, but equipment is worth nothing without well-trained and motivated police officers," said Joachim Peters, EUAM General Policing Adviser/Trainer.  "Besides technical support, EUAM provides trainings and strategic advice to our partners in Kirovohrad region within our joint project."
The 'Model Regional Police' project, conducted jointly by EUAM and the National Police of Ukraine in Kirovohrad region, focuses on re-structuring and optimization of police functions in the region, in line with EU best practices. The measures mostly concern an efficient management system, an organisational performance evaluation system, efficient decision-making processes and the establishment of a Citizens Advisory Board as an institutional link to civil society.
Previously, more than 800 police officers underwent EUAM training in Kropyvnytskiy city (the regional centre), aimed to improve the skills of police middle management, and to pass on best European practices in general policing, community policing, criminal investigations  and  crime-scene management.