EUAM calls for radical improvement in criminal investigations in Ukraine
June 15, 2017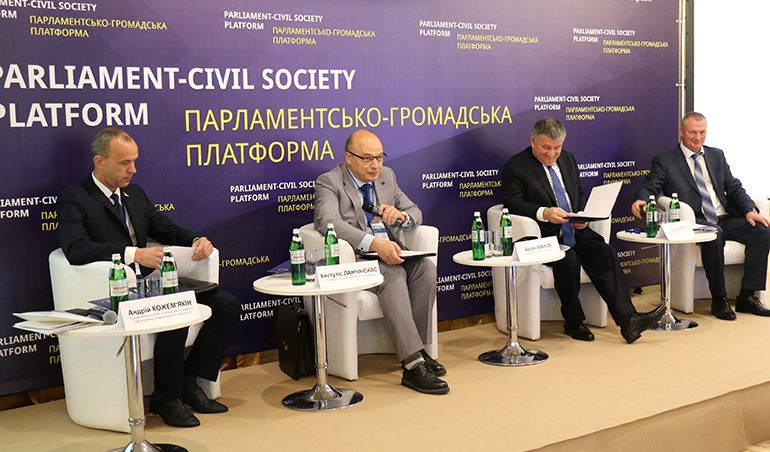 The Fourth meeting of the Parliament-Civil Society Platform — a joint initiative of the European Union Advisory Mission (EUAM) and OSCE Project Coordinator in Ukraine (OSCE PCU) — brought together 180 senior law enforcement officials, parliamentarians, experts and civil society activists in Kyiv to elaborate concrete steps aimed at boosting the effectiveness of criminal investigations in Ukraine and improving coordination within and between law enforcement agencies.
According to analyses, carried out by EUAM with other international organisations since 2015, the criminal investigation system in Ukraine lacks effectiveness when compared to other European countries due to outdated, post-Soviet criminal investigation structures and a complicated Criminal Procedure Code.
In January 2017, EUAM and the National Police of Ukraine (NPU) launched a joint pilot project in Boryspil police station, merging the activities of operatives and investigators under one chain of command. This model has already proven successful in EU countries such as the Czech Republic, Lithuania, Poland and Romania. Currently, this project is being implemented in eight regions of Ukraine – Kyiv, Kharkiv, Khmelnitsky, Lviv, Odesa, Poltava, Sumy and Zaporizhe.

Head of EUAM, Kęstutis Lančinskas and Minister of Internal Affairs of Ukraine, Arsen Avakov
The expected results are a reduction in bureaucracy and an increase in efficiency as operatives and investigators will no longer be under different chains of command and will operate as one team. The 'merger' reform is a first step towards creating an Institute of Detectives in Ukraine. Besides trainings and strategic advice, EUAM has already provided IT and forensic equipment worth 150 thousands euros to support investigators in Boryspil, Kharkiv, Lviv and Khmelnitsky. 
"The aim of the reforms currently taking place is to effectively solve and prevent crimes," said the Head of EUAM, Kęstutis Lančinskas. "Ukraine's citizens expect law enforcement officials to ensure justice is served and this trust depends to a large extent on successful criminal investigations. EUAM calls for a radically more effective and better coordinated system of criminal investigations, as well as a merger of operatives and investigators, within the current legal framework".
EUAM also calls for the current overload in minor crime investigations to be addressed, in order to concentrate on more serious crimes. The Mission recommends introducing simplified procedures for minor, non-violent crimes, as is the case in many EU countries.  
"We believe that fair and honest dialogue between stakeholders and civil society is an indispensable ingredient for success in any reform. This dialogue is more than needed in such a sensitive area as criminal investigation reform where the country needs the courage to finally get rid of the remnants of Soviet-style criminal prosecutions," said the OSCE Project Co-ordinator in Ukraine, Ambassador Vaidotas Verba.
Along with Mr Lančinskas, the Minister of Internal Affairs of Ukraine, Arsen Avakov, the Head of the Verkhovna Rada Committee on Legislative Support of Law Enforcement, Andrii Kozhemiakin, the Head of the National Police of Ukraine Sergii Kniazev.