EU Foreign Policy Chief Josep Borrell in Odesa praises EUAM Ukraine's drive in standing by Ukraine
October 04, 2023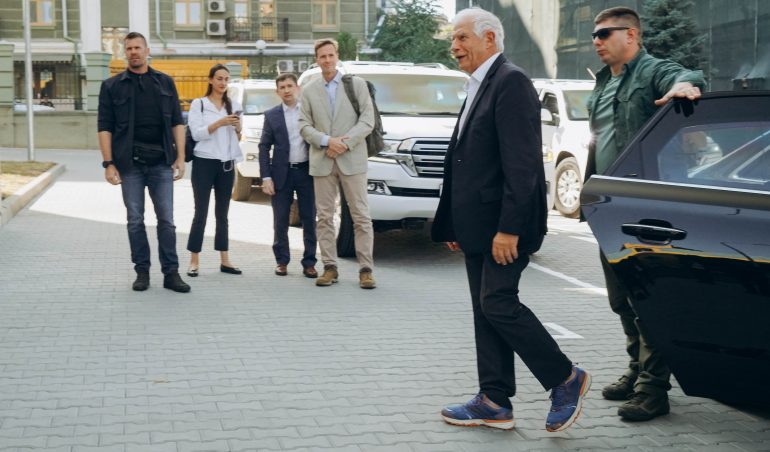 "Odesa is such a beautiful city, with cultural and historical roots, it should be on the front pages of the newspapers for its cultural activities, vibrant multiethnic society, its beauty, its history". The EU High Representative for Foreign Affairs and Security Policy, Josep Borrell, speaks these words under a blue clear sky welcoming him in the "Pearl of the Black Sea", on 30 September.
A bright sun shines on the city's fine buildings, ranging a variety of architectural styles, from Classicism to Neo-Renaissance and Art Nouveau.
Nowadays, Odesa does not make the headlines because of its beauty and history, remarks the EU top diplomat, but because of the "barbaric attacks of Russia, its aggression, against the city – destroying the harbour, infrastructure and old churches".
Josep Borrell's visit highlights the EU's 360 degrees support to Ukraine towards "a just peace" preserving its "territorial integrity and independence", plus its path towards EU integration.
The EU Advisory Mission (EUAM) Ukraine is part of the EU's overall engagement. The Mission has a field office in Odesa, operative despite the recent increased attacks on the South of Ukraine.
During his stay in the city, Josep Borrell walks to several venues, including the grounds of the destroyed Transfiguration Cathedral and the port.
Together with the Head of EUAM Ukraine, Rolf Holmboe, he meets with Ukrainian partners, including prosecutors, law enforcement officials, academics, and representatives of NGOs, engaging in amicable and informative discussions.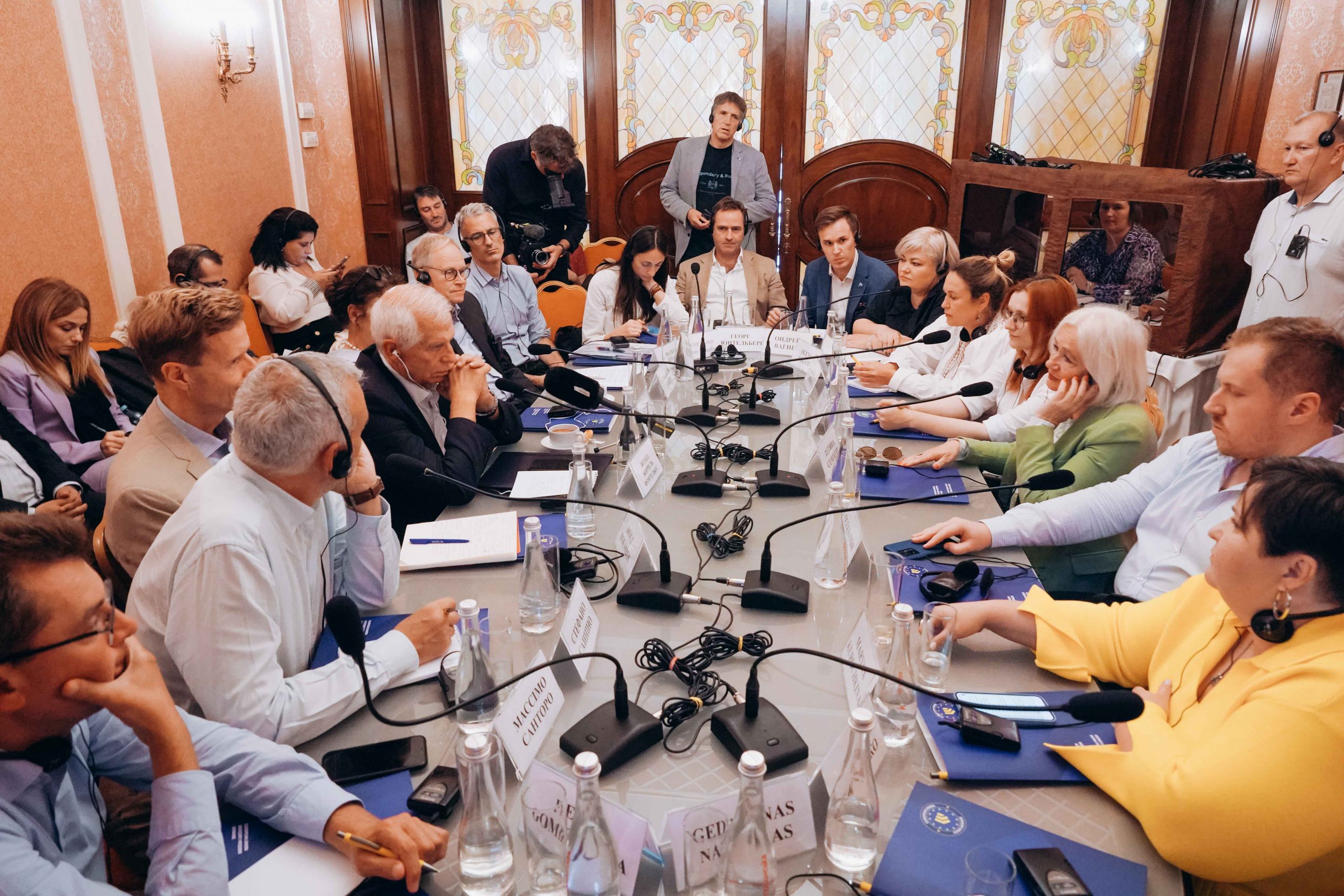 Some of the Ukrainian law enforcement officials meeting Borrell during a roundtable discussion come from liberated areas, such as Izium and Snihurivka. "You are conducting a particularly important work, not only fighting in the front line, but also to reform your civilian security sector. This is crucial in the short term to increase the trust of the population", Borrell tells them.
Topics such as the high level of mine contamination in Ukraine's liberated areas and the destruction of state institutions are mentioned at the talks. "Besides the regular police tasks, my team has been involved in humanitarian and demining activities", explains the Head of Izium District Police, Dmytro Hrinchak, who fully agrees on a working approach focusing on trust building between law enforcement officials and citizens.
Police premises in Snihurivka and Izium have been damaged or destroyed during Russia's attacks.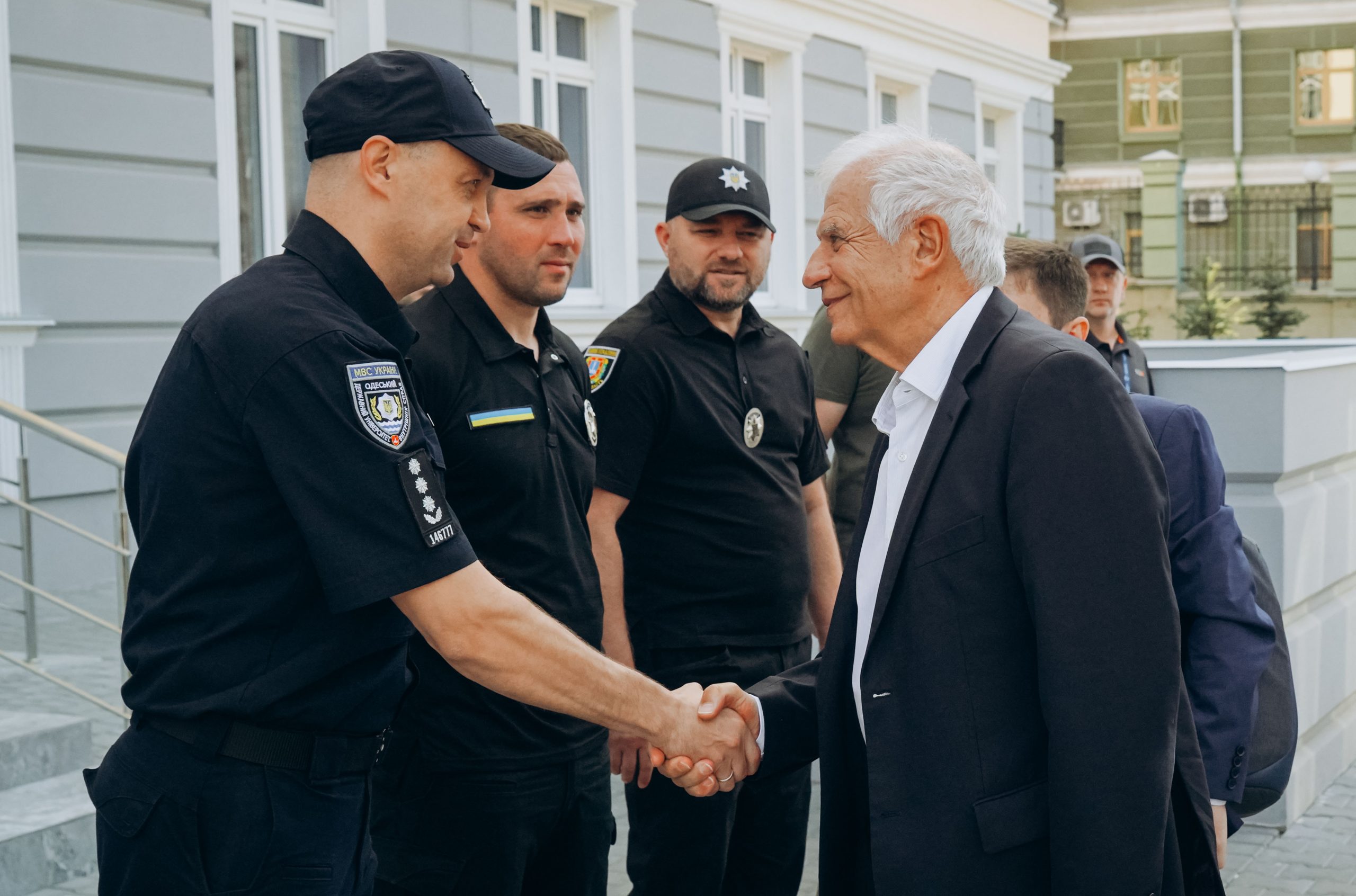 EUAM Ukraine is providing police and prosecutors from liberated areas with mobile technical equipment, so that they can resume their daily work, while dealing with unprecedented and challenging tasks. This is arranged based on the Ukrainian's needs.
When speaking with NGO representatives, Borrell touches once more upon the key issue of trust and confidence between civil society and civilian security forces, a central aspect in democracy, thus a fundamental step for Ukraine's accession to the EU. EUAM Ukraine's work contributes to building bridges and strengthening the dialogue between Ukrainian civil society and civilian security sector reform actors.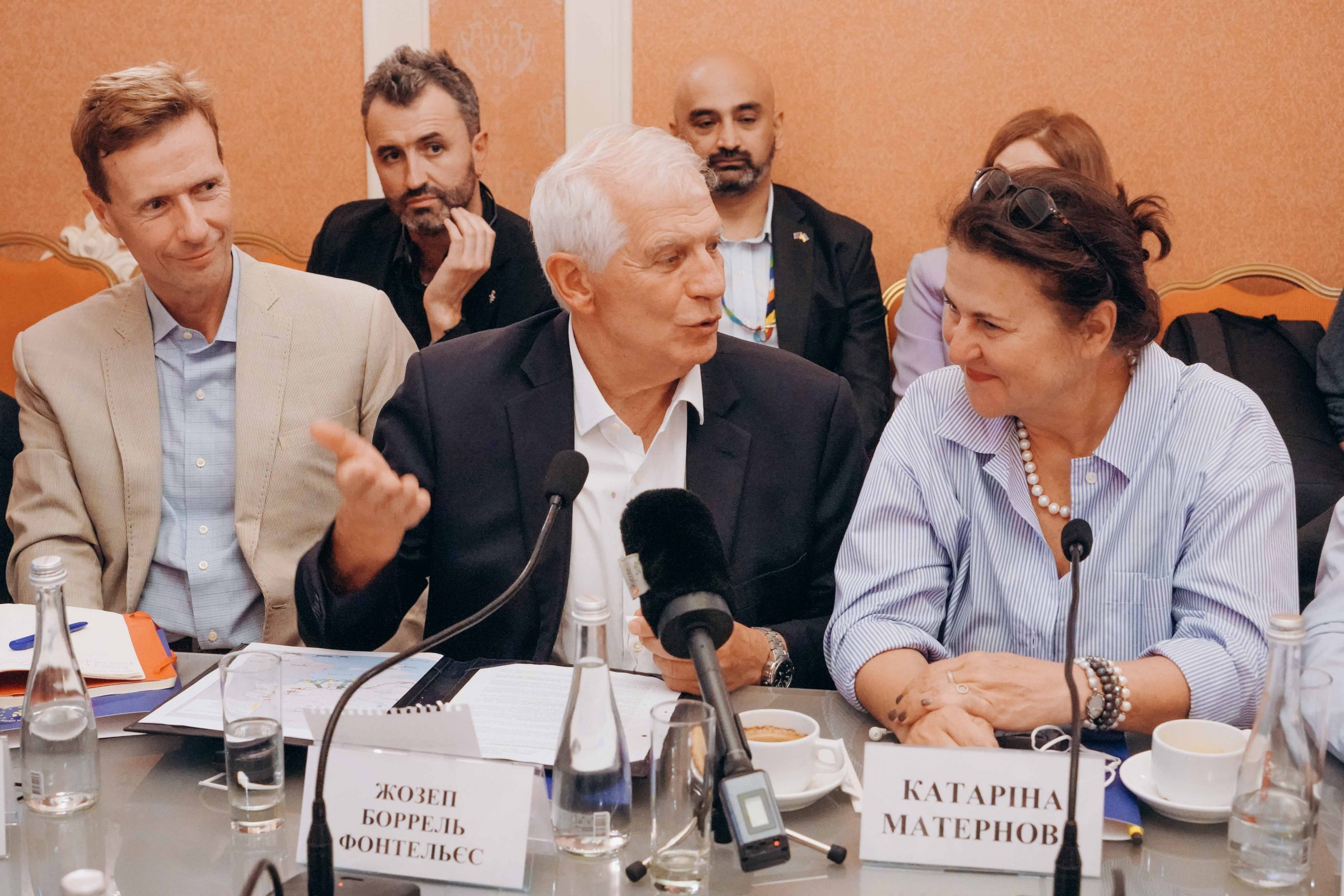 "Performing civilian security forces, and the rule of law being implemented is crucial to become a member of the European Union, and to increase the resilience of the Ukrainian society facing the war. I am very proud that our advisory Mission could support you on documenting, investigating, and prosecuting war crimes, and asking for responsibility for everyone who has been involved on that", states the EU top Diplomat in Odesa.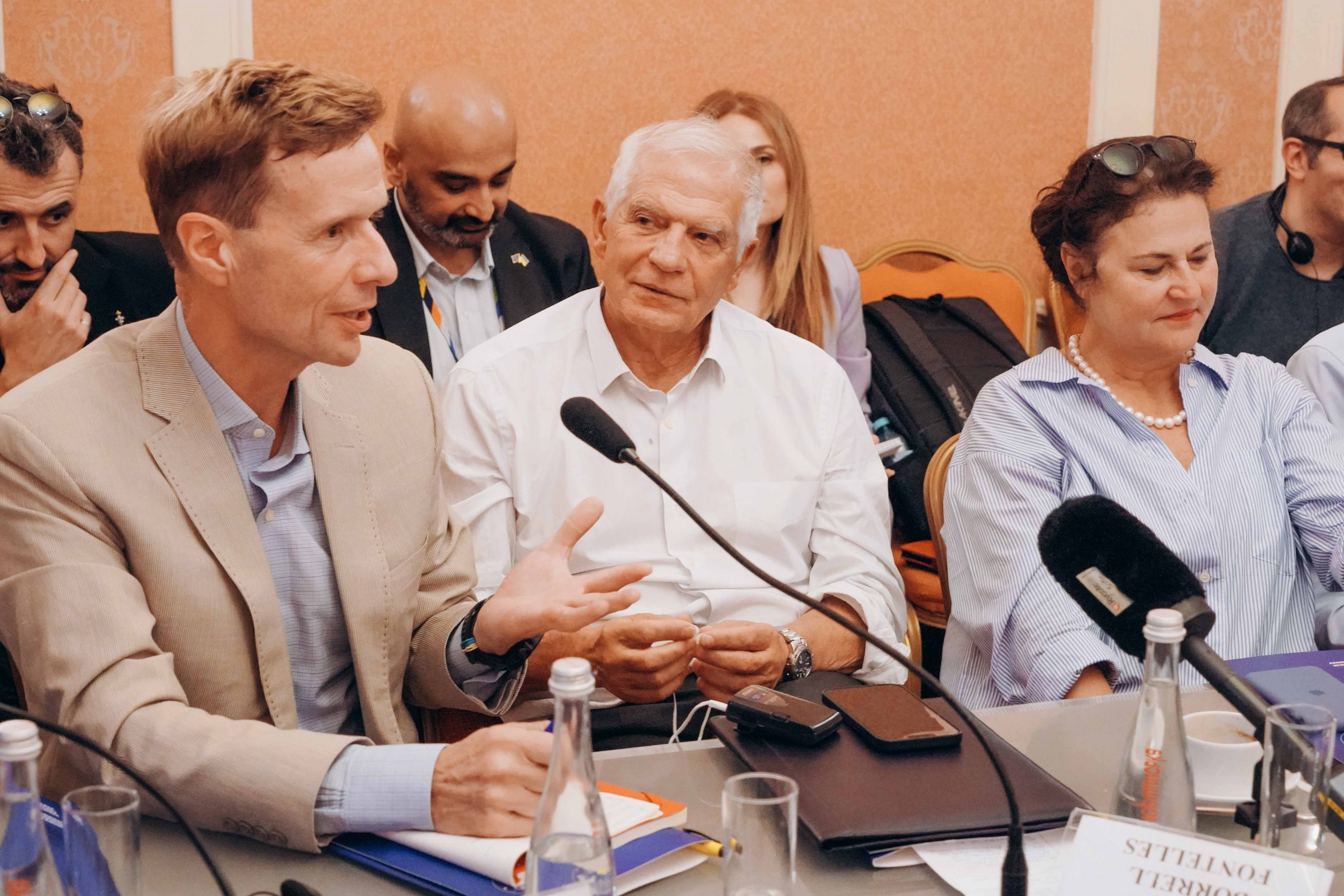 As Borrell's visit unfolds, the Mission conducts training sessions on International Crimes and Open-Source Intelligence for prosecutors and law enforcements officials at the Odesa State University of Internal Affairs. Open-Source Intelligence is an essential tool to enable the Ukrainian institutions to investigate war crimes committed in Ukraine. This is key to bring culprits to justice one day, underlines Rolf Holmboe, further clarifying how "EUAM's new responsibilities on International Crimes and the Mission's interventions in areas liberated from Russia's occupation are now key areas of focus, in addition to our core tasks".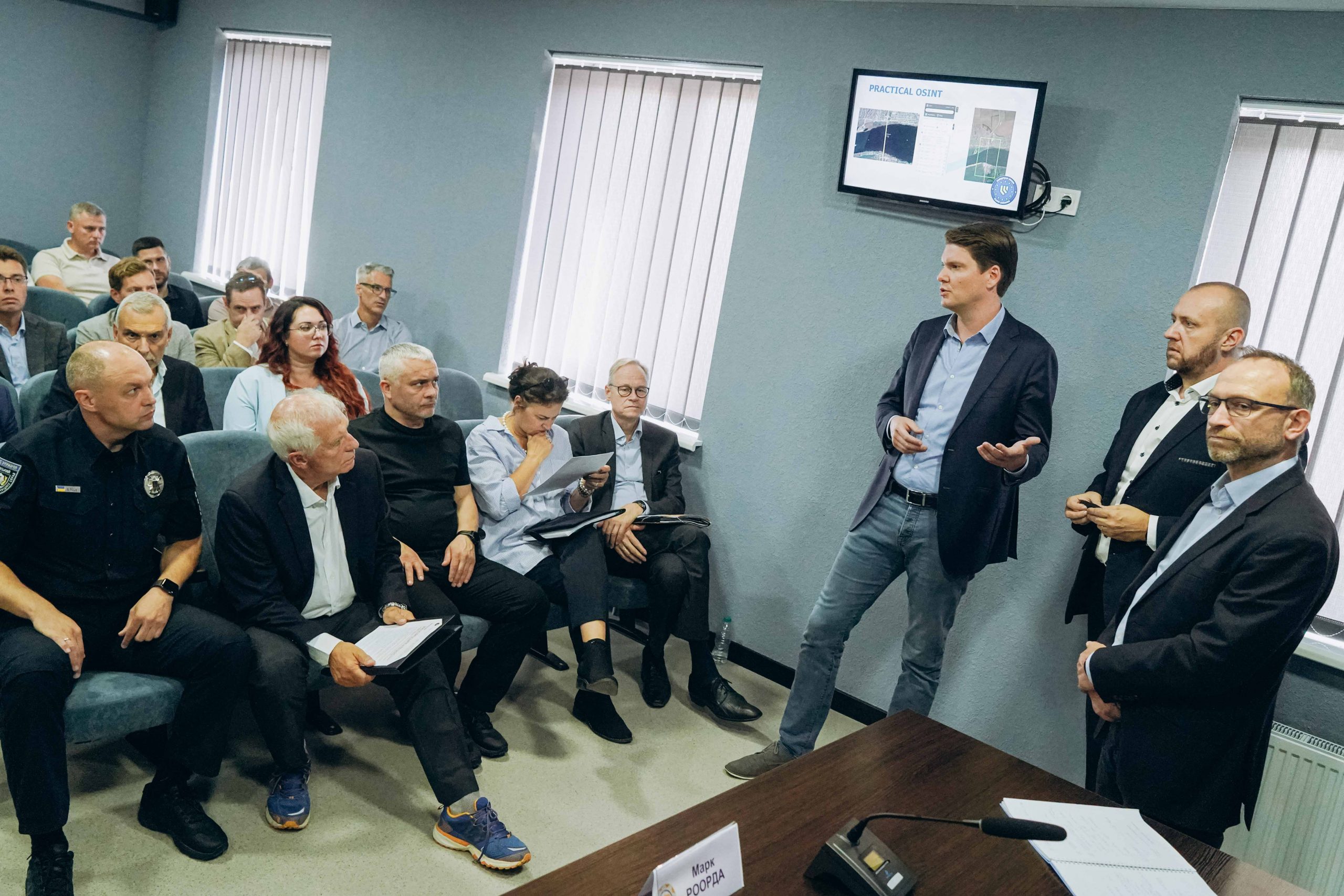 Part of Borrell's visit takes place in a stunningly beautiful building in downtown Odesa. In the lobby located on the ground floor, crystal chandeliers hanging over a clear marble floor reflect the sunlight beaming through the windows. The violins of an orchestra rehearse Vivaldi. Guests are gathering. A wedding is underway.
Any of this can be disrupted by an air alarm at any time. Yet, everyone carries on working and living, just like in other parts of Ukraine.
In Odesa, the EU High Representative reaffirms the EU's determination in supporting Ukraine "until victory." Echoing Borrell's words, Rolf Holmboe remarks how, within the context of its mandate, EUAM Ukraine strives to make its contribution, standing with Ukraine and supporting the country on its path towards EU integration.
"My hope," stresses the Head of Mission, "is for Ukraine to triumph over the aggression, and to be soon fully integrated in our European family."