EU Civilian Operations Commander visits Ukraine for the second time since Russia's war of aggression
July 26, 2023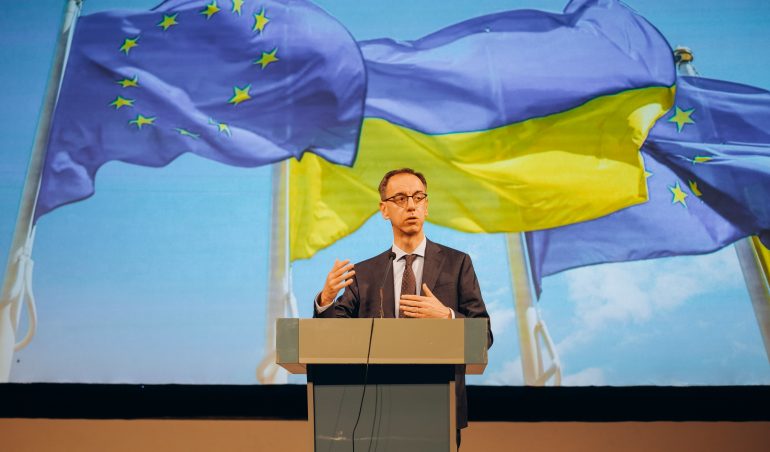 Stefano Tomat, the EU's Civilian Operations Commander (CivOpsCdr), visited Ukraine for the second time since the full-scale invasion, from 17 to 22 July.
The CivOpsCdr visit, unfolding from the Southern city of Odesa and the adjacent liberated territories to the capital Kyiv, and onwards to Ukraine's Western border area, focused on first-hand familiarisation with the delivery of EUAM Ukraine's mandate in the current dire and ever-changing circumstances, assessing both progress and new challenges on the ground as well as getting updated by the Mission's Ukrainian partners' on their perspectives.
The field trip provided an opportunity for Stefano Tomat to engage in simultaneous discussions with EUAM Ukraine's Head of Mission, Rolf Holmboe and senior staff, and their Ukrainian interlocutors, including on ways forward.
While the Mission's core mandate – reform of the Civilian Security Sector (CSS) – remains at the heart of EUAM Ukraine's mandate, the Mission is also responding to the sector's urgent operational needs, stemming from the consequences of the war.
Topics of the discussions during the visit included the Mission's engagement in the Liberated Areas and Adjacent Territories (LATs) within the framework of the continuous Mission's support to Ukrainian Security Sector actors, the Overarching Strategy (OAS) for the Reform of the entire Law Enforcement Sector, International Crimes related priorities, Witness and Victims Protection schemes, environmental related aspects of the war (Ecocide), and relations to the International Centre for the Prosecution of the Crime of Aggression (ICPA).
During his second visit to Ukraine, Stefano Tomat met with key Ukrainian institutional actors and the Mission's main counterparts, including the Deputy Prime Minister of Ukraine, Olga Stefanishyna, Ukraine's Prosecutor General, Andriy Kostin, national and regional representatives of the Minster of Internal Affairs MoIA and Law Enforcement Agencies (National Police, Security Service, Maritime Coast Guard Directorate of the State Border Guard Service).
Stefano Tomat also met with EUAM Ukraine's mission members in Kyiv, Odesa and Lviv, expressing his gratitude for their dedication and presence on the ground amidst difficult circumstances. "We are all in it, together with our Ukrainian friends" was the message sent by the CivOpsCdr. A view very much shared by the Mission's leadership and staff.
When reading news headlines upon his return to Brussels on 23 July, Stefano Tomat learned about the destruction of Odesa's cathedral – one of Ukraine's UNESCO's world heritage sites – caused by yet another missile attack on the city. A reminder of the constant violation of human rights Ukraine is experiencing in this war.
More on the visit can be found here:
https://www.euam-ukraine.eu/news/support-in-challenging-times-eu-s-civilian-operations-commander-visits-ukraine/
https://www.euam-ukraine.eu/news/we-are-all-in-it-together-with-ukraine/
https://www.facebook.com/euamukraine