Entry into force of visa-free regime is reward for reform, says Ukraine's border agency
June 02, 2017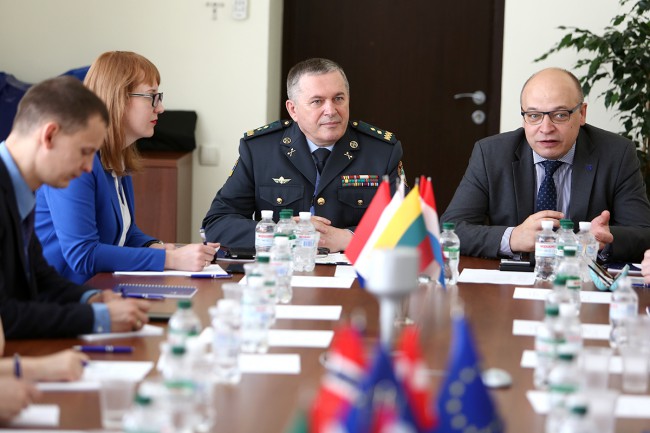 Ukraine's Border Management Assistance Group (BMAG) met for the 6th time at EUAM's headquarters in Kyiv today, and the State Border Guard Service of Ukraine (SBGS) used the opportunity to outline its reform achievements ahead of the entry into force of the visa-free regime with the EU on 11 June.
The BMAG (created in May 2015), is a forum comprised of Ukrainian and international stakeholders dedicated to border-management reform in Ukraine, with the SBGS as chair and EUAM performing secretariat duties. Participation in the BMAG is a central part of EUAM's delivery of strategic advice; the Group also ensures greater international donor cooperation in the field of border management.
Reforms by the SBGS were required under the terms of Ukraine's visa-liberalisation action plan – these reforms related to measures such as the introduction of biometric passports, Integrated Border Management, and anti-corruption measures.
The SGBS told members of the international community today that the visa-free regime that will allow Ukrainian citizens to travel to the EU (visa-free) for stays of up to three months for the first time, is a reward for efforts the agency has been making in implementing reform measures. The First Deputy Head of the SBGS assured those present that further reforms would follow.
"I would congratulate Ukraine on its visa-free regime. EUAM believes that the State Border Guard Service of Ukraine is one of the most reform-minded law-enforcement agencies in the state," said EUAM Head of Mission, Kestutis Lancinskas. "International cooperation is at the heart of border work and the SBGS has shown an openness and willingness to cooperate with international bodies. Their achievements show that Ukrainian citizens can experience the tangible benefits of reform."
Speakers from the Netherlands and EUBAM also addressed the Group today, giving their experience of the operation of visa-free regimes from the EU and non-EU perspectives.