Advancing the support to Civilian Security Sector Reform
July 31, 2023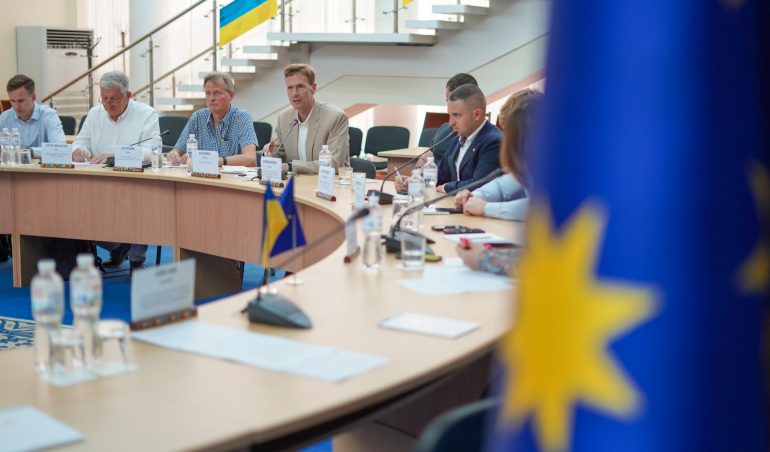 Creating synergies among lawmakers and law enforcement agencies (LEAs) for the purpose of reforming Ukraine's civil security sector was one of the reasons why on 24-26 July EUAM Ukraine was in Dnipro (Dnipropetrovsk Region), facilitating a visit of the Verkhovna Rada Committee on Law Enforcement.
Engaging in substantive communication with LEAs in Dnipropetrovsk Region, assessing possible needs for changes in relevant legislation to improve their efficiency, and the implementation of the Overarching Strategic Plan for the Reform of the Law Enforcement Sector took center stage during the members of Parliament (MPs) visit.
The parliamentary oversight of law enforcement agencies is crucial for reforming Ukraine's civil security sector.
"This region is unique as it borders four oblasts (regions) with areas still under occupation – Kharkiv, Donetsk, Zaporizhzhia, and Kherson. Hence, the work of LEAs here has its own specifics", explained the deputy head of the Verkhovna Rada's Committee on Law Enforcement, Galyna Mykhailiuk.
The MP added that such visits helps MPs to better understand the challenges law enforcement agencies face on the ground, identify legislative needs, and explore measures for improving the situation in this critical region.
EUAM Ukraine's Head of Mission, Rolf Holmboe, who joined the lawmakers in Dnipro underlined his and the Mission's commitment to supporting institutional reform in Ukraine:
 "I am delighted that EUAM Ukraine facilitated this visit of the Verkhovna Rada Committee on Law Enforcement to Dnipro. Such visits are beneficial for both parties: the parliament can engage in direct dialogue with law enforcement agencies, and in turn, the agencies gain a deeper understanding of the importance and value of being accountable to the Ukrainian people".
The visit included meetings between the committee and various law enforcement agencies, for example the Dnipropetrovsk Regional Prosecutor's Office, the State Bureau of Investigation, and the Main Directorate of the National Police.
The MPs and EUAM Ukraine also met with representatives of local authorities, including the Dnipropetrovsk Regional State Administration and visited the Dnipropetrovsk State University of Internal Affairs (DSUIA).
The Rector of the DSUIA, Police Colonel Andrii Fomenko, detailed on how the cadets of the athenaeum get the opportunity to gaining a multitude of professional skills, including identifying and combating domestic violence, organized crime, and corruption.
"Given the conditions of martial law, police officers' responsibilities have expanded significantly, including requiring them to enter liberated territories and document international crimes. To prepare future officers for such tasks, the university established and equipped a training ground that in a stylized manner features circumstances as close as possible to a real crime scene," added the Rector.  
Rolf Holmboe was impressed with the Colonel Fomenko's dedication, and expressed his solidarity and preparedness for support in view of the challenges future law enforcement officers will face, particularly in liberated territories and the investigation of international crimes.
In doing so, EUAM Ukraine's HoM reiterated the Mission commitment to support Ukraine and its people.