Senior Management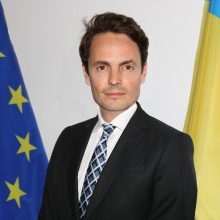 Fredrik Wesslau
Deputy Head of Mission
Fredrik Wesslau has spent much of his career working in crisis management and conflict resolution. He has substantial experience of diplomacy and political affairs in conflict environments. A native of Sweden, he worked in Kosovo for the OSCE and UNMIK, including as Special Advisor to the Special Representative of the Secretary-General and Head of the Strategic Policy Unit.
He has subsequently worked as Political Advisor to the EUSR for the South Caucasus and to the EUSR for Sudan and South Sudan. In both these capacities, he was part of setting up two CSDP missions of the European Union: EUMM Georgia and EUAVSEC South Sudan. He then worked as Country Representative of EUCAP Nestor, focusing on building capacity in the maritime security sector to fight piracy off the coast of Somalia.
Most recently, he was Director of the Wider Europe Programme at the think tank, European Council on Foreign Relations, with a particular focus on EU policy towards Russia, Ukraine, Turkey, and the Western Balkans. He is the author of The Political Adviser's Handbook and has previously worked as a journalist, writing mainly for the International Herald Tribune. He was educated in Lund, London, Paris, and New York.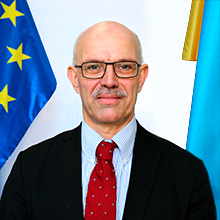 Peter Bach
Chief of Staff
Peter Bach is a Danish national with over 20 years of international experience in Rule of Law, Project Management, and Crisis Management. He has worked for various international organisations, including the OSCE (Bosnia and Herzegovina, Serbia), Office of the High Representative (Bosnia and Herzegovina), the European Agency for Reconstruction (Serbia), and within UNOPS and EULEX in Kosovo.
Mr Bach has significant experience with EU donor assistance programmes, especially in the Rule of Law sector. Before joining EUAM Ukraine as the Chief of Staff, Mr Bach was the Head of the Strengthening Division within EULEX Kosovo, responsible for the Mission's monitoring, mentoring and advising (MMA) obligations towards local authorities, which included Kosovos justice sector and law-enforcement institutions.
Peter Bach holds a law degree from Copenhagen University and an LL.M from American University, Washington College of Law, Washington DC, USA. Prior to working internationally, Mr Bach was an attorney in Denmark for 10 years. He is admitted to the Danish Supreme Court.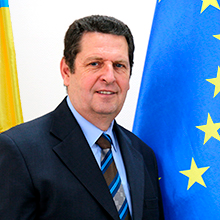 Udo Möller
Head of Operations
With more than 45 years of experience in police work, Udo Möller has served as a senior police officer in Germany as well as in various peacekeeping and international capacity-building missions. During his career, he has gained extensive experience in strategic and operational policing in conflict and post-conflict environments.
His national career started in 1970 as a patrol officer in North Rhine-Westphalia in Germany, where he would eventually become Chief of Police. He served as Deputy Head of Mission at the EU Support to the African Union Mission (Darfur), Head of Police at EULEX in Kosovo, and as principal and senior adviser and project manager for various EU and UN peacekeeping missions.
Mr Möller also had a part-time political career between 1989 and 2006, enjoying roles as a member of regional parliament, member of county parliament and Chairman of a governing body of the Municipality Bank Institute for five years.
Before being appointed Head of Operations at EUAM Ukraine in August 2016, Mr Möller served as both Head of the Regional Outreach Component and as Head of the Law-Enforcement Component in the Mission. He led the Enhanced Regional Outreach Team that in 2015 created the 'Sambir Police Project' in the Lviv Region, which had the objective of building the trust of Ukrainian citizens in the police outside of the largest cities.