EUAM donates equipment worth over one million UAH to reformed criminal-investigation team in Borispol station
31.03.2017
Police 'merger' pilot project is victory for efficiency over bureaucracy
The National Police of Ukraine (NPU) and the European Union Advisory Mission (EUAM) today announced details of a criminal-investigation pilot project in Borispol police station that will simplify the work of police officers and ultimately making crime-solving more effective. In practice, the 'merger' project will mean merging the activities of police operatives and investigators under one chain of command. It is an approach already tried and tested in EU countries such as the Czech Republic, Lithuania, Poland and Romania, with successful results.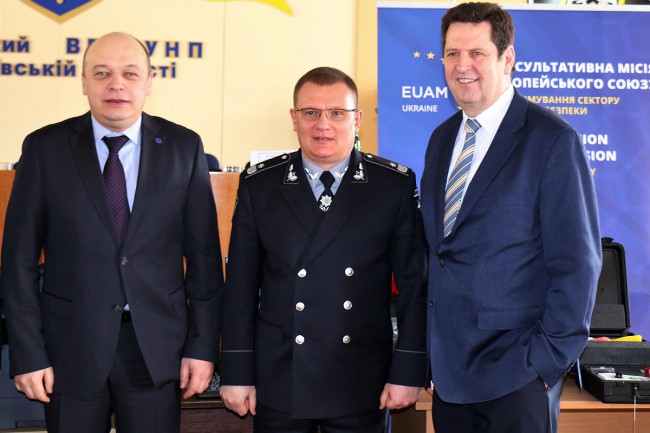 EUAM Head of Mission Kestutis Lancinskas, Deputy Head of NPU Oleksandr Vakulenko, EUAM Head of Operations Udo Moeller
EUAM experts have already been observing the initial stages of the pilot project in Borispol, and just last week delivered training in the use of specialised forensic equipment to criminal-investigation teams there. As a further measure of support, the Mission today donated IT and forensic equipment, ballistic kits and printers worth €35,000 (1 million grivnas) to the station.
When criminal cases are investigated in Ukraine, and before they get to court, two specialist police officers are responsible for gathering evidence: an 'operative' who works in the field to gather intelligence, and an office-based 'investigator' who pieces the case together by turning that intelligence into evidence.
Standard practice in EU countries is to have one investigator, combining both operative and investigator functions. In Ukraine, however, operatives and investigators often operate under separate chains of command, which results in a lack of coordination and communication, and compromises efficiency. Criminal cases can go unsolved, resources are wasted, and bureaucracy increases, all of which frustrates the general public.
The result of the Borispol pilot project will be a reduction of bureaucracy and an increase in efficiency: operatives will take on investigative functions and vice versa, and both will operate under one chain of command, as a team.
"As part of the ongoing improvement of police structures, the NPU has decided to enhance the effectiveness of criminal investigations with EUAM's help," said EUAM Head of Mission Kestutis Lancinskas. "I am confident that the merger pilot project will increase the efficiency of criminal-investigation teams, and provide an example that other criminal-investigation teams around Ukraine will eventually copy. The ultimate aim, of course, is to reduce crime and keep citizens safe."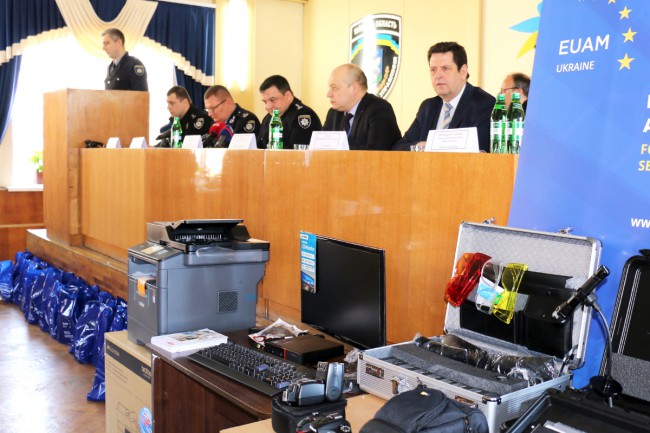 Handover ceremony at Boryspil station
The 'merger' reform is a first step towards creating an Institute of Detectives in Ukraine, but in the short term EUAM experts believe that the 'merger' pilot project can deliver positive results. The pilot project also has the full support of the Kyiv Regional Prosecutor´s Office, which also plays a key role in criminal-investigation processes. A review of the pilot project will be conducted after six months.